Have fun with Hop on Pop by Dr. Seuss!
With the right resources and a bit of creativity, you can extend the learning fun with Dr. Seuss and these popular books for kids.
Find out how my boys and I are having fun with Hop on Pop with these fabulous printables, games, activities, and more!
To boost our learning fun with this Dr. Seuss book, I went on the hunt for awesome ways to learn and practice:
sight words
rhyming
counting
gross motor skills
reading
coloring
You'll also find some free printables and yummy snacks to make your fun with Hop on Pop even better!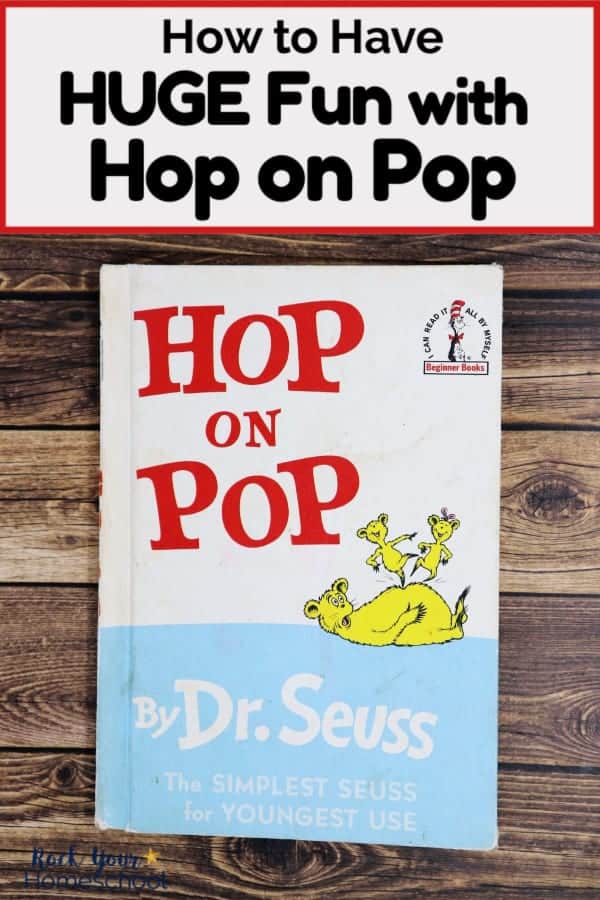 Huge Fun with Hop on Pop!
Free Printables for Hop on Pop Fun with Dr. Seuss from Rock Your Homeschool: This printable pack has sight words to pair with pictures to extend the learning fun with this book.
Hop on Pop Sight Words Game from The Chaos and The Clutter: Here's a fun sight words game that will get your kids moving!
Hop on Pop Balloon Game from The Frugal Navy Wife: Fabulous game to play with kids to burn off energy after reading Hop on Pop.
Hop on Pop Rhyming Activity from Mom Inspired Life: Save that bubble wrap for this awesome game to pair with Hop on Pop.
Gross Motor Learning with Hop on Pop from What Can We Do With Paper and Glue: Another fun game that you can customize for your kids with letters, numbers, and sight words.
Hop on Pop Number and Counting Game from Coffee Cups and Crayons: Cute ideas for a DIY number and counting game.
Early Learning Activity from Powerful Mothering: Activity to help your kids match sight words to words in the book.
Hop on Pop Word Games from Simple Play Ideas: Awesome games and activities to help your kids extend the learning fun for Hop on Pop.
Hop on Pop Numbered Balloons Games from Toddler Approved: Hands-on activity that involves popping balloons (just a warning if your child gets freaked out by that-one of my boys does!).
Hop on Popcorn Sight Word Printable from obSEUSSed: My boys and I LOVE this free printable sight words popcorn game. So much fun!
Hop on Pop Prepositions Worksheet from Vanessa's Blog: Helpful printable for teaching and practicing preposition words found in Hop on Pop.
Hop on Pop Hopscotch Word Games from Coffee Cups and Crayons: Get your kids moving with this fun hopscotch game based on words from this book.
Hop on Pop Coloring Page from Seussville: Free printable coloring page for Hop on Pop.
Hop on Pop-Corn from Sweets & Whimsy: Yummy recipe for enjoying Hop on Pop-corn while reading this book!
More Awesome Ways to Have Enjoy Hop on Pop!
* CARRY ALONG BOOK & CD HOP ON POP
Hop on Pop Floor Puzzle
Keep the learning fun with Dr. Seuss going with these Dr. Seuss Pals printables:
FREE Dr. Seuss-Inspired Printable Pack for Learning Fun Activities
Dr. Seuss-Inspired Cootie Catchers are tons of hands-on fun that kids up and moving with action prompts.
Great for brain breaks and rainy day fun 🙂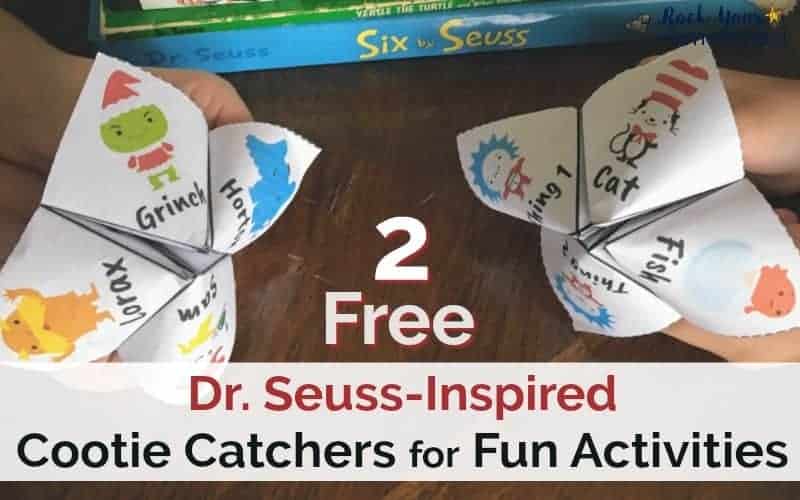 And this Dr. Seuss-Inspired Bingo is a blast!