Reading Scavenger Hunt: Free Printable to Make It Fun for Kids
This reading scavenger hunt is a remarkable way to boost learning fun and more.
Your kids will have a blast as they enjoy the variety of topics and suggestions on this free printable activity.
Check out all the creative ways to enjoy this reading scavenger hunt for kids and and get your free set today!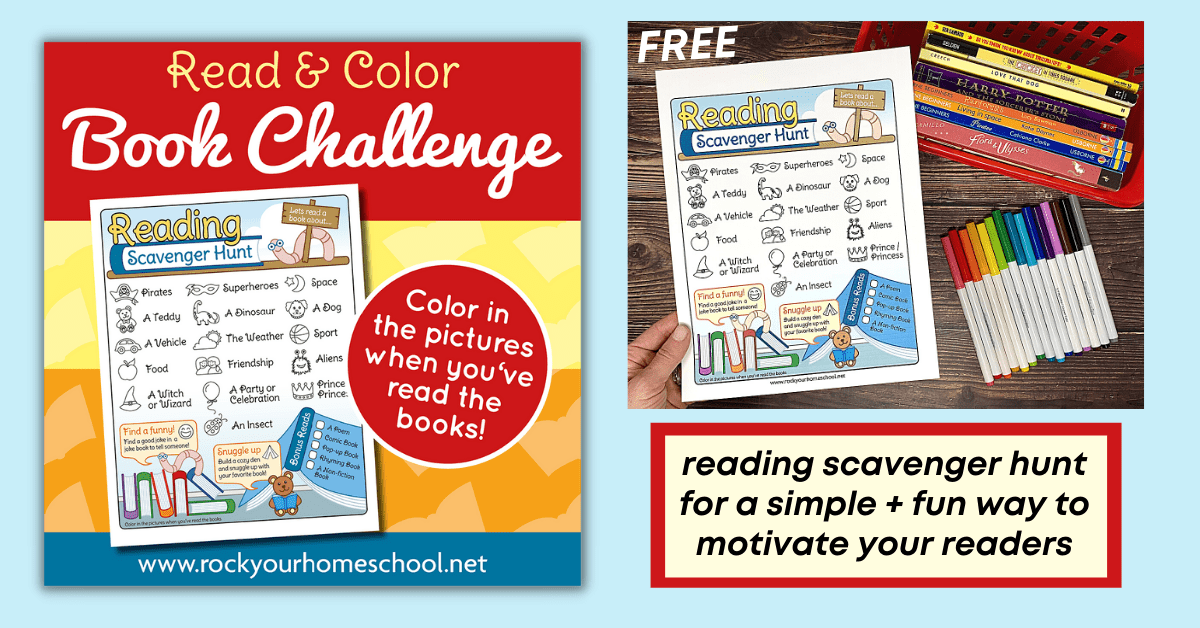 A Scavenger Hunt Can Be A Terrific Learning Tool
Looking for an easy yet fun way to motivate your kids to read?
A scavenger hunt is a fantastic way to get your children excited about reading.
Plus, this type of scavenger hunt encourages your kids to explore different topics and themes. Such wonderful ways to develop new interests and ideas!
It's absolutely incredible how such a simple thing like a scavenger hunt can be such a cool learning tool.
Your kids will have a blast with this type of activity AND learn a lot in the process.
The Institute for Educational Advancement shares a few of the benefits of scavenger hunts for kids. I love how these activities help kids practice positive skills, like growth mindset and more.
My boys LOVE scavenger hunts! We've been enjoying all sorts of holiday-themed scavenger hunts (like Earth Day) and educational-themed ones (like Numbers and Colors). A reading scavenger hunt seemed like the perfect addition to our collection of learning fun.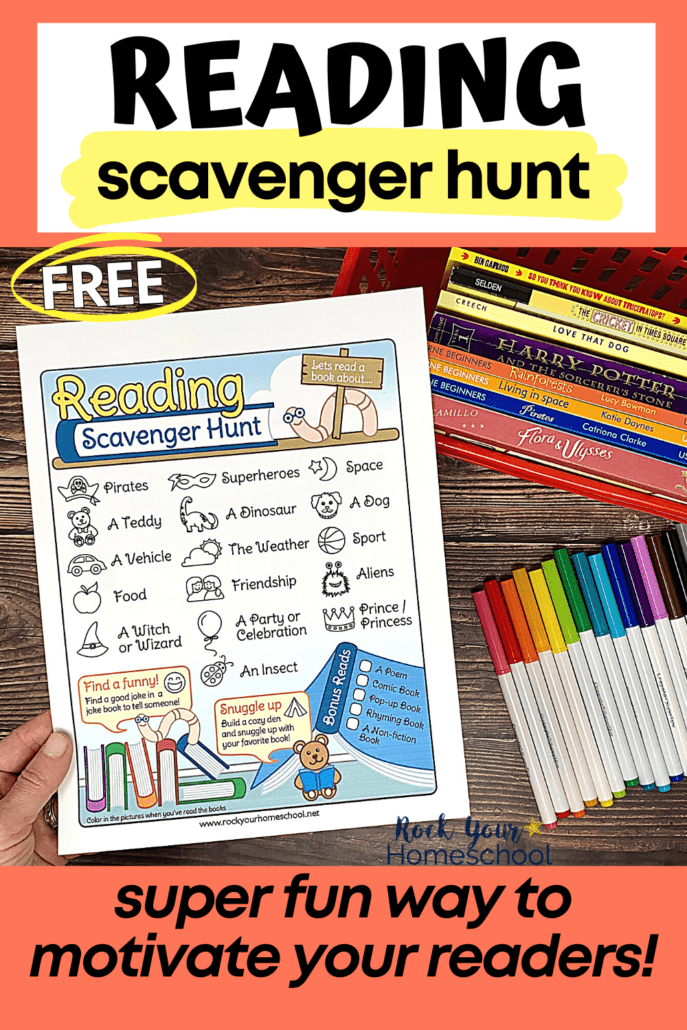 Learn More About This Reading Scavenger Hunt
This free printable reading scavenger hunt is on one page.
An assortment of topics and themes are included. Also, you'll find some creative prompts and bonus suggestions for extra reading fun.
Your kids will color in the black-and-white image as they complete reading (or listening) to a book on that topic.
This scavenger hunt for kids features super cool themes, like:
Pirates
A Teddy (or other type of bear)
A Vehicle
Food
A Witch or Wizard
A Dinosaur
The Weather
Friendship
A Party or Celebration
An Insect
A Dog
Sport
Aliens
Prince/Princess
Pirateology: The Pirate Hunter's Companion (Ologies)
Pete the Cat and the Treasure Map
How I Became a Pirate
Harry Potter Paperback Box Set (Books 1-7)
SuperHero ABC
The Ultimate Dinosaur Encyclopedia: Enhanced with Stunning Interactive 3D Models and Videos
National Geographic Kids Everything Weather: Facts, Photos, and Fun that Will Blow You Away
Love That Dog
Additional ideas include:
Find a funny! (Find a good joke in a joke book to tell someone!)
Snuggle up (Build a cozy den and snuggle up with your favorite book!)
Bonus reads (A Poem, Comic Book, Pop-Up Book, Rhyming Book, A Non-Fiction Book)
Fun Educational Jokes for Kids: With amusing facts about food, animals, biology, science, and geography
The Best Joke Book For Kids: Illustrated Silly Jokes For Ages 3-6. (Illustrated Joke books)
The Random House Book of Poetry for Children
A Pop-Up Book of Nursery Rhymes: A Classic Collectible Pop-Up
The Weather: Pop-up Book
The Pop-Up Guide: Space
Harry Potter: A Pop-Up Guide to Hogwarts
Beauty & the Beast: A Pop-up Book of the Classic Fairy Tale
Pop-up Dinosaurs: A Pop-Up Book to Get Your Jaws Into (Priddy Pop-Up)
Creative & Simple Ways to Boost This Reading Activity
This scavenger hunt with reading themes involves your children coloring in the objects when seen or found. I suggest having a variety of coloring tools to pick from, like crayons, color pencils, and fine-tip markers.
I also recommend printing this reading scavenger hunt on white cardstock. Regular printer paper works just fine. My boys, however, get excited when doing this type of activity and have a tendency to accidentally rip the paper 😉. Perhaps your children are the same way?
If you'd like to use this free printable scavenger hunt again and again, you can laminate it or place in a dry erase sleeve.
Your kids might find it easier to place their reading scavenger hunt on a clipboard or in a binder (especially in a clear page protector) to keep safe and simple to find.
If your kids show a particular interest in one or more of these themes, encourage them to read more books about the topic. They can use tally marks to record extra readings.
A fun way to extend the learning fun with this scavenger hunt (and make the most of paper) is to use the back of it as a reading log. Jot down book titles, authors, and minutes read to see all the progress your kids are making.
Your independent readers can go with chapter books and informational texts on different themes. Young children can enjoy picture books or other age-appropriate selections from your book collection.
Crayola Glitter Crayons, Back To School Supplies, 24Count, Multi
Crayola Twistables Crayons Coloring Set, Kids Craft Supplies, Gift, 50 Count
Crayola 684024 Long Barrel Colored Woodcase Pencils, 3.3 Mm, 24 Assorted Colors/Set
Crayola Erasable Colored Pencils, 36 Count, Art Tools, Ages 4, 5, 6, 7
Crayola Ultra Clean Washable Markers, Fine Line Marker Set, Gift for Kids, 40 Count
Neenah Paper Exact Index, 110-Pounds, 8.5 x 11 Inches, 250 Sheets, White, 94 Brightness (WAU40411)
Amazon Basics Plastic Clipboards, Assorted Color , Pack of 6
Sooez Sheet Protectors, 8.5 x 11 Inches Clear Page Protectors for 3 Ring Binder Medium Weight Plastic Sleeves for Binders, Top Loading Paper Protector Acid Free Letter Size, 50 Pack
INFUN Dry Erase Pockets – 30 Pack,Oversized Reusable Dry Erase Sleeves, Multicolored Dry Erase Pocket Sleeves with 30 Markers 4 Eraser 3 Metal Rings for Classroom Organization & Teaching Supplies
Get Your Free Reading Scavenger Hunt for Kids
Hurray! You are well on your way to easily enjoying a fun learning and reading challenge! It's an excellent way to encourage your summer reader or overall boost student learning.
This free Reading Scavenger Hunt is on one printable (PDF) page and is so much fun.
You can most certainly print as many of these scavenger hunts as you need for your personal use, family, class, homeschool co-op, or community event. If you have a friend or co-worker who might like to have this type of reading fun, I ask that you please share this post with them. Thanks so much for your cooperation!
To get this free Reading Scavenger Hunt for kids, simply subscribe to Rock Your Homeschool.
You'll receive an email with a PDF file, along with a password to open the Subscriber's Library to all RYHS freebies.
Plus, you'll get emails with ideas, resources, and encouragement to make life and learning fun 🙂
(Psst! Current RYHS members just need to access the Subscriber Freebies page and enter the password in your welcome email. If you have any problems or questions, please email Amy at rockyourhomeschool@gmail.com)
Get your FREE Reading Scavenger Hunt by tapping HERE or on the image below.
What are some other fun ways that you like to motivate your kids to read more? Please share your ideas in the comments area below. (And if you'd like to see any other types of free scavenger hunts here, let me know what topics!)
Related Posts