Free Winter Memory Game for Wonderful Fun with Kids
This Winter Memory Game is a wonderful activity for seasonal fun no matter what the weather! You'll have a blast as you make matches with cute winter themes.
Don't go stir crazy this winter! Instead of losing your mind, be prepared with open-and-go activities, like this memory game, that you can enjoy with your kids 🙂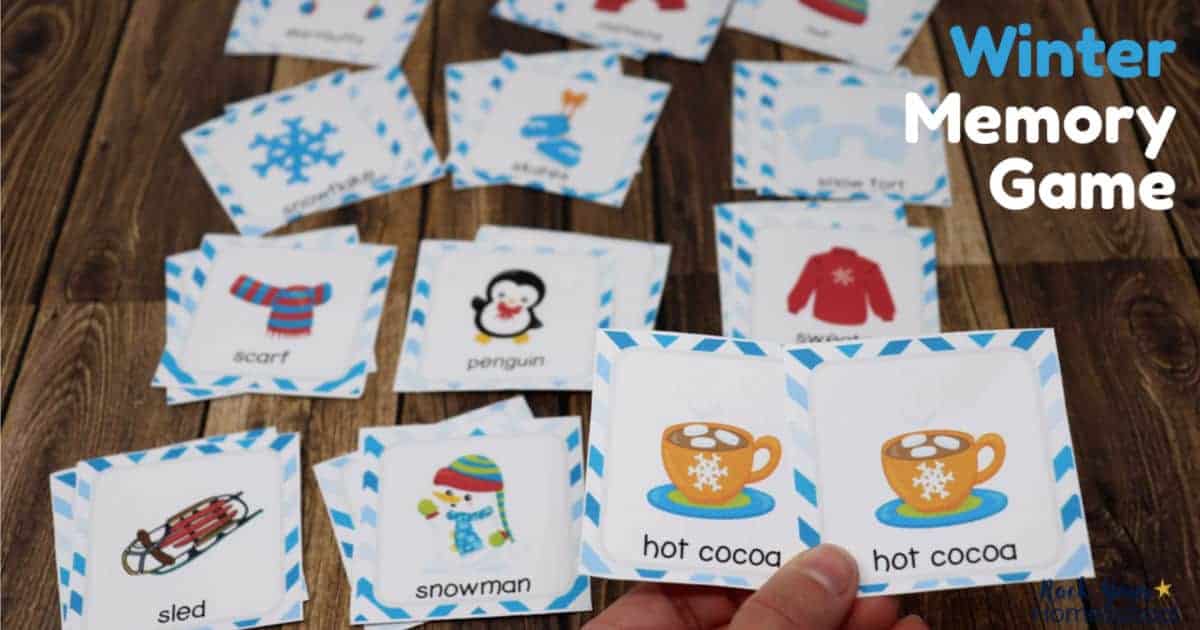 The Solution for Easy Yet Engaging Winter Activities
Bouncing off the walls.
Wrestling matches with at least two boys rolling around the ground and jumping off couches.
Holding on to that last marble that's dangling way too close to the edge of my sanity.
Just a few of the reasons why this busy homeschool mom of 5 boys needs simple indoor winter activities. What reasons would you add to that list?
When winter weather hits, I start putting together a collection of activities that my boys can enjoy indoors. I've been through way too many cabin fever situations to know how important it is to take the time to assemble resources to have at the ready.
We live in western Pennsylvania, close to the snow belt. At the first sign of winter, my boys go running for their snow boots and pants. They can't wait to get outside and make snowballs as they trek through the pretty snow.
Their excitement starts to plummet when the temperatures do, typically mid- to late- January. By this point, all that pretty snow fluctuates between rockhard ice and mush, to a depressing brownish gray. Below-freezing temperatures often prevent us from our daily outdoor playtime.
I'm all about giving my boys plenty of free time to explore and use their creativity. My boys have vivid imaginations and are often hunting down aliens on a far-off planet or building "structures" that take them to new and exciting dimensions.
But, I know when it's time to intervene. A five-boy battle royale in my living room is just a recipe for disaster.
To prevent injury, blood loss, and massive destruction to our home, I have my arsenal of fun activities stored in a handy-dandy file folder.
Throughout the year, I jot ideas down that I find on Pinterest or think up myself on index cards. I tuck in printable activities that I make or find from other awesome sites.
This type of preparation stops me from blanking when my frustration level hits a crescendo. Instead of seeing red, I reach for my fun collection, especially when the weather is too nasty to get outside.
Wonderful Ways to Boost the Fun with This Winter Memory Game
After enjoying our Christmas Memory Game for Kids so much, the boys asked for a winter version. I was happy to oblige!
This simple matching activity is easy-to-use and great for all ages. To keep the interactive fun going, my boys and I have come up with a few variations and creative add-ons:
Play music in the background. Go for upbeat or calming, depending on what your crew needs at the time.
Small prizes to award to the winner of each round are fun optional perks. You don't need anything expensive or fancy. Winter-themed mini-erasers, pencils, stickers, and stamps are little ways to boost the fun. You can even go with DIY coupons for extra screentime or family movie night.
Bump up the challenge! When a player makes a match, they need to do ______. Help your kids burn off energy by doing five jumping jacks when they make a match. Or acting out how to build a snowman. Better yet, have your kids randomly pick out one of these printable brain breaks!
Use the cards for a different type of game. Hide the cards around the room or your home. Players must find the cards and make a match. Another great way to burn off all that energy 😉
Foam Snowflake Shapes (400Pc) – Crafts for Kids and Fun Home Activities
Mahaohao White Snowflake Buttons Assorted Holiday Collection Snowflakes Buttons Embellishments
Fun Express Mini Penguin Eraser Asst – 144 Pieces – Educational and Learning Activities for Kids
amscan Christmas-Themed Winter Fun Erasers, 12 Ct. | Party Favor
Tiny Mills 24 Pcs Arctic Animals Stampers for Kids Winter Animal Stamps Party Favor Goodie Bag Stuffers Holiday Party Prizes Classroom Rewards Pinata Filler
Fun Express – Snowflake Stamps (2dz) for Winter – Stationery – Stamps – Stamps – Self Inking – Winter – 24 Pieces
Stackable Snowman Pencils, Bulk set of 36 – Christmas Party Favors and Handouts
Fun Express Snowman Pencils – 24 Pack of Wood Pencils – Christmas Party Favors and Handouts
Winter Wonderland Holiday Pencils, Set of 24
Get Your Free Winter Memory Game for Kids
Memory games have so many benefits for kids, like improving:
Concentration
Attention span
Differentiation
Visual memory
Self-confidence
Problem-solving skills
Get started today with your free printable set of winter memory game cards for kids! This game includes 2 pages with a total of 24 winter-themed cards.
Got a friend or co-worker who you think would enjoy this memory game with their kids? Please share the link to the post 🙂
It's super easy to get your Winter Memory Game!
Simply TAP HERE or on the image below. Add this free resource to your cart (and browse our freebies for other great ways to make life and learning fun!). When you're ready to checkout, you'll be subscribing to Rock Your Homeschool.
You'll get the PDF (printable) file in an email (along with any other resources you selected!).
Plus, you'll be added to our subscriber's list so be on the lookout for emails with tips, tricks, and encouragement for making time for learning fun with your kids.
Raise that hot cocoa! Here's to lots of winter fun that you can enjoy with your kids 🙂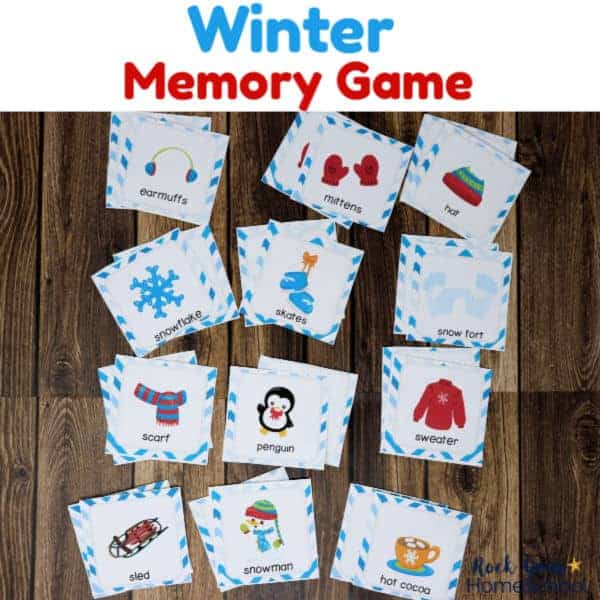 More Winter Fun Activities for Kids