Free Printables for Hop On Pop Fun With Dr. Seuss
Add learning fun to your day with Free Hop On Pop Fun printables!
Enjoy these activities in your classroom, library, homeschool, or family to extend the learning fun with Dr. Seuss and this fabulous book.
I love creating and sharing different ways to extend the learning fun with Dr. Seuss books. My boys have benefited so much from reading practice with Dr. Seuss.
Enjoy Hop On Pop Fun With Your Kids!
One of the most popular and well-known Dr. Seuss books is Hop On Pop. This text is excellent for early readers.  Beginning sight words are presented in a fun way that helps kids remember how to read them.

Two of my boys, Xman (4) and Bear (7) have been working with Brave Writer's The Wand. One of the first books used in this language arts curriculum is Hop On Pop by Dr. Seuss. I love reading and using Dr. Seuss books in our family. I love the rhythm of the books, as well as the illustration.
My boys had a terrific time learning basic sight words with this book. And my almost-10-year-old even likes to join in our learning fun as I read this book with his brothers.
I knew that creating a special activity for my boys to use during our Hop On Pop time would make it even better.
I had worked with Smiley and Bear on making DIY Magnetic Words And More! for Brave Writer learning fun. I created a word list for Hop On Pop to make creating these word magnets even easier.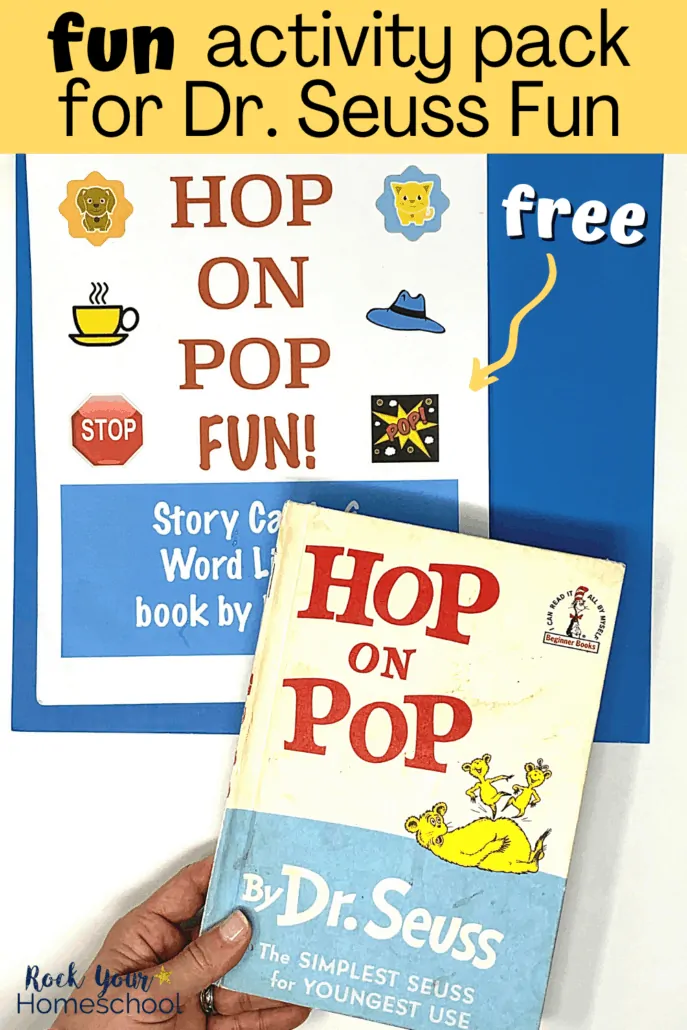 Hop On Pop Fun! With Dr. Seuss Printables
You can get this FREE printable pack of 32 Hop On Pop storytime cards and word list by subscribing to Rock Your Homeschool.
Simply click here or on the image below, subscribe, and download for Hop On Pop Fun! 
OR you can purchase this printable pack HERE on Teachers Pay Teachers.
For more learning fun with Dr. Seuss, check out these awesome ideas:
Craft & Printable Activities for Dr. Seuss's Fox In Socks
Learning Fun With Dr. Seuss: Great Day for Up!
The Shape of Me and Other Stuff: Activities & Crafts For Dr. Seuss Book
Mr. Brown Can Moo! Can You?: Story Cards & Activities For Dr. Seuss Book
Looking for some fun printables to extend the learning fun with Dr. Seuss? Enjoy these Dr. Seuss Pals printables:
Dr. Seuss-Inspired Cootie Catchers are tons of fun, too 🙂
And this Dr. Seuss-Inspired Bingo is a blast!