Free Christmas Bingo for Easy Holiday Fun Kids Will Love
You can slow down and enjoy fun activities with your kids during the busy holiday season, even if time is short.
Make special holiday memories happen with easy printables and games, like this free Christmas Bingo set. Your kids will love the interactive fun and you'll feel like a holiday hero!
How This Bingo Game Can Help You Slow Down During the Holiday Rush
Oh my stars! The holidays can feel like a whirlwind if you let them.
So much hustle and bustle. Dashing and darting here, there, and everywhere as you plan and prepare for special holiday moments.
For such a wonderful time of the year, you can feel like you're being pulled like a piece of peppermint taffy during the holidays.
And all that pulling brings stress and distraction, with little to no time for holiday fun with your kids.
But, it doesn't have to be that way. You don't have to succumb to holiday pressure. And you CAN enjoy easy holiday fun with your kids.
How? K.I.S.S. Keep It Simple, Sweetie.
Your kids don't need or want a lot around Christmas. They just want time with you. Simple time that involves attention, talking, and maybe even giggles.
You don't need to spend a ton of money or even exert a lot of energy. Just print out a few free Christmas printables and you'll be ready to go!
Because printables are NOT a bad thing, especially when you use them with purpose and make them interactive.
So, grab a printable set of this fun and free Christmas Bingo game to spark holiday memories with your classroom, library event, homeschool, and/or family!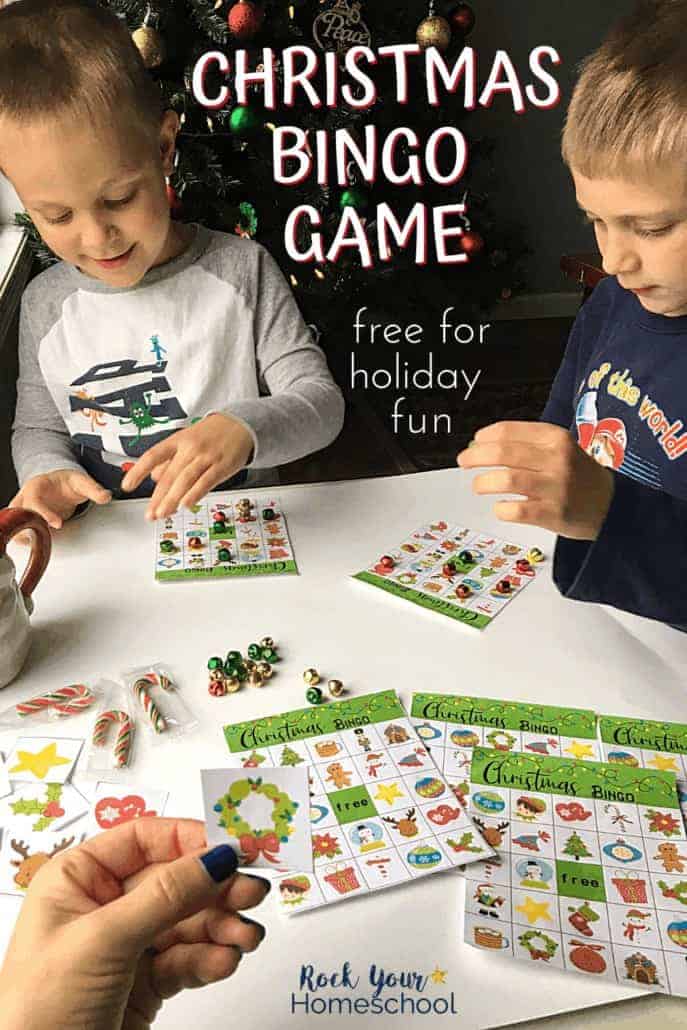 Get Your Free Christmas Bingo Game Printable Set for Easy Holiday Fun with Kids
Be prepared for awesome holiday fun with kids with this free Christmas Bingo game.
In this free printable set, you'll receive 2 pages of calling cards (24 total cards) and 3 pages of Bingo cards (6 total).
As you play this free Christmas Bingo game with your kids, chat about the holiday figures and themes. Ask which one your kids like best. Extend your conversation with questions about the holidays and what your kids are looking forward to the most. Use this special time to connect and relax.
Need some fun ideas on how to mark your free Christmas Bingo cards?
Jingle bells
Pompoms
Christmas mini-erasers
Playdough in Christmas colors (red, green, white, yellow)
Holiday-themed candies
When you join the Rock Your Homeschool community, you'll receive this printable in a PDF download in an email, along with a password that opens the vault to all RYHS freebies.
In addition to your freebies, you'll get emails with fabulous ways to make learning and life fun.
(Psst!  Current RYHS members just need to access the Subscriber Freebies page and enter the password in your welcome email.  Or get the instant download in the email the week of this post)
Click HERE or on the image below to subscribe and get started with this free Christmas Bingo Game for special holiday fun with kids!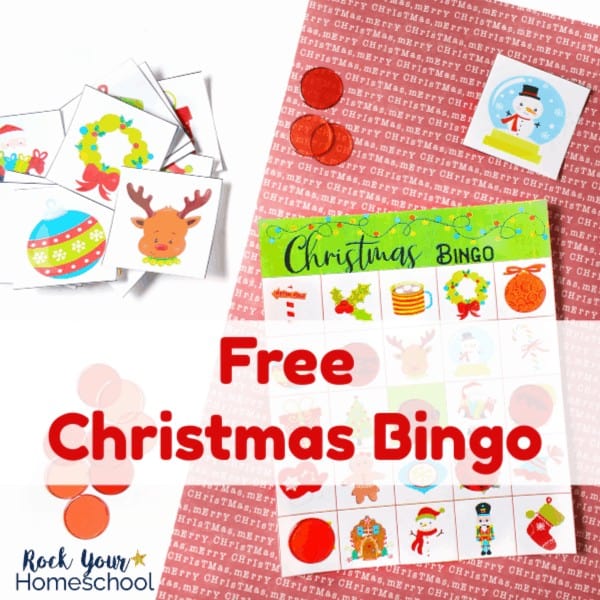 Part of Ultimate Christmas Planning Link-Up for a Stress Free Holiday: