Free Homeschool Fun for Preschoolers Bucket List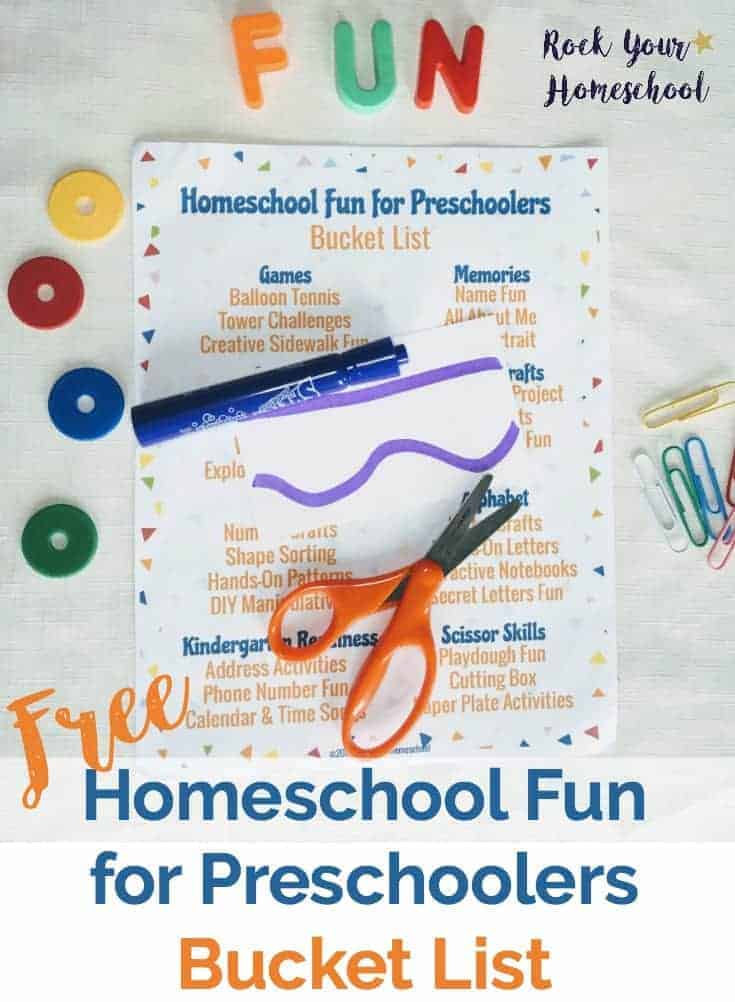 If you are homeschooling a preschooler, you are in luck! There are so many awesome ways to have homeschool fun for preschoolers. With a bit of planning and preparation, you can make sure to create special moments and memories with your homeschool preschooler.
This free printable Homeschool Fun for Preschoolers Bucket List is for homeschool families who:
are new to or considering homeschooling their kids
have a preschooler who could benefit from positive ways to channel attention and energy
lack creative ideas for fun learning activities with preschoolers
are too busy to even think about what types of learning fun to do with preschoolers
are on a budget and need free or frugal ideas for having homeschool fun with preschool age kids
These homeschool fun activities are great ways to interact with and connect with your young learners. Although a few activities can be done independently, most preschoolers will need you present to help and redirect.
Homeschool life gets busy. It can be hard to think of what to have for dinner or when you last switched the laundry. With five boys who range from preschool to high school, I know how easy it is to let planning homeschool fun slip through the cracks.
I created this homeschool fun bucket list for preschoolers to provide an easy reference for planning and preparing learning fun with our young ones. Having easy-to-do activities, especially quiet ones, can be extremely helpful when you have preschoolers!
A homeschool fun bucket list is a fantastic starting point for having learning fun with your kids. The suggested ideas and activities are meant to be customized to best fit the needs of your kids and homeschool.
Plan & Prepare with Your Free Homeschool Fun for Preschoolers Bucket List
This free printable has a prepared list that is full of ideas for:
Games
Memories
Science
Arts & Crafts
Math
Alphabet
Kindergarten Readiness
Scissor Skills
These themes are great for helping preschoolers learn skills plus develop a love of learning. You know your preschooler best. Adapt any suggested idea to best meet the need of your child.
If you are like me, you like to tweak things. Use the blank homeschool fun for all bucket list to customize your homeschool fun. Let these themes and ideas be a springboard for planning homeschool fun for preschoolers.
To get your free printable Homeschool Fun for Preschoolers Bucket List, simply subscribe to Rock Your Homeschool. You will receive these printable in a PDF download in an email, along with a super secret password that opens the vault to all RYHS freebies. In addition to your freebies, you will be a weekly email with ways to rock your homeschool plus instant downloads to all new freebies.
(Psst! Current RYHS members just need to access the Subscriber Freebies page and enter the password in your welcome email. Or get the instant download in the email the week of this post)
Click HERE or on the image below to subscribe and get started on homeschool fun for preschoolers!
Suggested Resources for Your Homeschool Fun for Preschoolers Bucket List
One of the BEST mess-free and stress-free homeschool fun resources that my boys and I recommend is Kwik Stix. Here are a few of our favorite resources that we have enjoyed with our preschool age kids:
Preschool Games
Balloon Tennis (Kids Craft Room)
Tower Challenges (using playdough & buttons-from The Educator's Spin on It)
Creative Sidewalk Fun (101 ideas from What Moms Love)
Preschool Memories
Name Fun (28 ideas found at 123 Homeschool4Me)
All About Me (free printable pack at Totschooling)
Preschool Science
All About Colors (great activity is Rainbow Walking Water Experiment at Schooling a Monkey)
Magnets (free printable sheet for exploring magnetism at The Measured Mom)
Explore Your Senses (free 5 senses sorting cards at The STEM Laboratory)
Preschool Arts & Crafts
Puffy Paint Project (DIY puffy paint recipe at One Little Project)
DIY Prints (use paint + Q-tips, cotton balls, aluminum foil balls, sponges, leaves, etc.)
Coffee Filter Fun (Look! We're Learning shares fantastic ideas for using coffee filters for crafts)
Mobiles (Buggy and Buddy shares this weather mobile craft for kids)
Preschool Math
Number Crafts (The Spruce shares ideas on make number collage crafts)
Shape Sorting (use construction & cut out different shapes to sort)
Hands-On Patterns (use different colors of playdough, buttons, pom poms, pipe cleaners, toys)
DIY Manipulatives (over 40 ideas at Homeschool Preschool 101)
Preschool Alphabet
Letter Crafts (The Simple Parent shares ideas on crafts for Letter of the Week)
Hands-On Letters (write a letter using marker & use stickers or small objects to cover)
Interactive Notebooks (Crafty Bee Creations shares ideas & tips for creating interactive letter notebooks)
Secret Letters Fun (crayon resist activity from Busy Toddler)
Kindergarten Readiness
Address Activites & Phone Number Fun (free name, address, & phone number worksheets at Sight and Sound Reading)
Calendar & Time Songs (find ideas at 45 Learning Songs For Homeschool Morning Time)
Preschool Scissor Skills
Playdough Fun (roll playdough into "snakes" or flat & use child-safe scissors to cut)
Cutting Box (Fun with Mama shares this free printable preschool cutting box)
Paper Plate Activities (Pink Stripey Socks shares this fun idea for paper plate haircuts)
If you like this free printable homeschool fun for all bucket list, you will love (coming soon!):
Free Homeschool Fun Bucket List for All
Free Homeschool Bucket List for Toddlers
Free Homeschool Bucket List for Elementary
Free Homeschool Bucket List for Middle School
Free Homeschool Bucket List for High School